Go Wander
Challenging the way we travel
Physical / Digtial, 2017
Contributors
Benedict Hübener, Isak Frostå, Vytautas Gudaitis
Special thanks
Michael Peng,
Steven Bishop,
Simon Herzog,
Daniel Letts
Imagine that you're finally in a city that's been on your bucket list for 10 years. What's the first place you'll visit? How will you get there? Most people we met during the course of this three week project, would start with apps like TripAdvisor, Foursquare and GoogleMaps to name a few.

But is travelling really about making sure that you find the places with the most stars? And is it really about getting from A to B as fast as possible? We don't think so.

Go Wander invites individuals to bring discovery back to travelling through a unique service that centers around exploring a city without the assistance of your smartphone.
What is the future of travel in urban environments?
How can we enhance the mobility of tourists in these environments?
What role can technology play in elevating their travelling experience?
What gaps exist in the travel industry currently?
Geared with the challenge to create a holistic experience for tourists in an urban environment, we started with trying to get a foothold of the current travel industry with an aim to understand the motivations, pain-points and gaps for the various stakeholders.
Research
Tourists are of many kinds and this was one of the bigger questions we wanted to answer with our reserach– Who are we designing for? We conducted a series of guerilla interviews with tourists of various kinds and more in-depth interviews with design hotel owner, hotel and hostel managers, travel operators and tour guides. We also spoke to expert travellers who travel to off-beat locations, who travel without much planning and those who have been in extreme situations during their travels.
An interview with Yuko, founder of
Toki︎︎︎
gave a closer look into meaningful and considered customisation of cultural experiences that retain authenticity while delivering on the needs of the travellers.
Yuko, when asked about how they personalise the experiences?
"Because it's an experience connecting human to human, we customize the communication and stories to tell depending on each customer, their interests and background."
Analysis and synthesis
We distilled days of research into four crisp insights derived from the underlying patterns in the travel and tourism industry, behaviour of travellers and dependency on technology during travelling especially for navigation.
Traveling is our most
valuable social currency

Efficiency is of low
priority for tourists

Curation kills authenticity

Technology allows
for spontaneity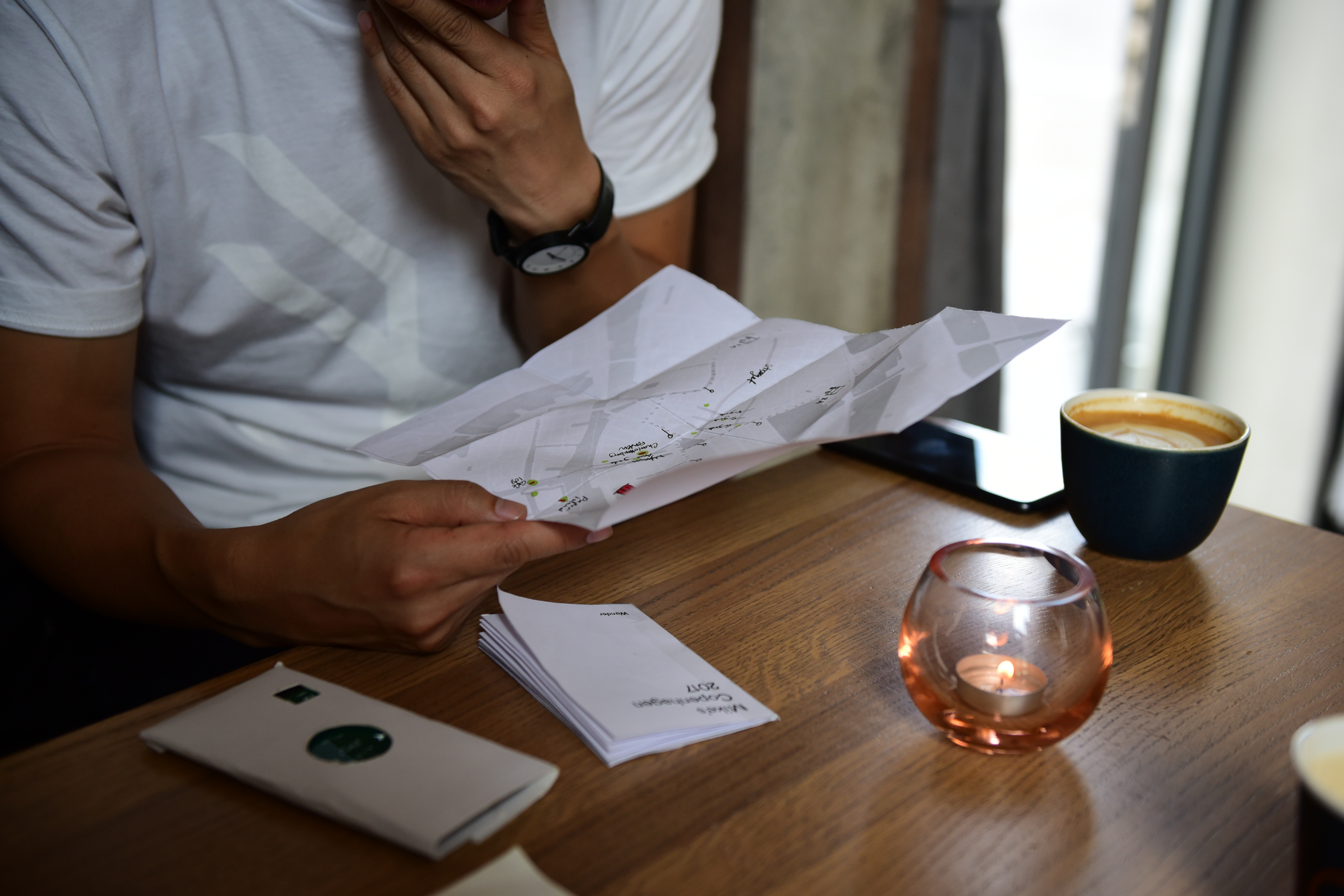 Prototyping sessions
Through the project, we as a team wanted to challenge the existing models and bring forth a new way to experience these journeys. We wanted to shift the dependancy from a smartphone and encourage travellers to get lost. But on purpose. After chalking down a service blue print, where we envisioned the journey of the traveller from intiation to their next travel. Each step of the journey had multiple touchpoints, and we went forward by prototyping the heart of the service.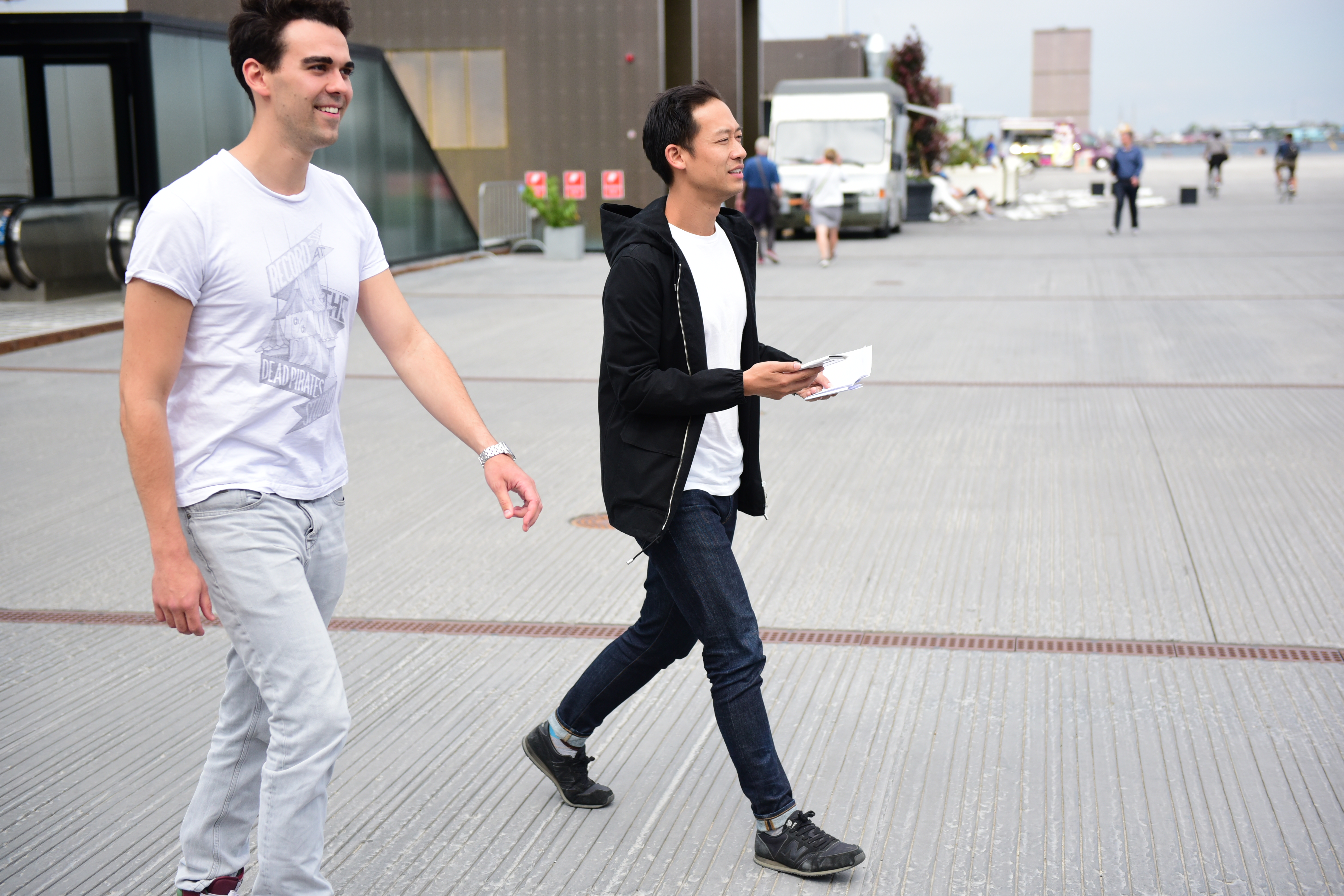 1. Plan


The journey begins with the service getting to know you: your interests, travel behaviours and patterns. The app/ chat bot builds a rich understanding of your likes, dislikes and preferences when you travel. Questions like Which places are on your bucket list? Do you prefer to travel alone? How much do you like to plan your holidays? The more you travel with us, the more we know your preferences.


2. Receive


Once you subscribe to the service, you'll receive our first package geared for your first travel experience with Go wander.



3. Prepare


Once you're in the city ready to explore, pull out the map that has been curated based on your preferences and suggestions from the Go Wander team and your friends who've been to the city before.

The icons on the map are suggestive of the activity helping you choose your next move. The details on the map has been intentionally removed for we believe a city is more than the street and neighbourhood names, it's about how you experience it.
4. Set


Settled on your next destination?
Place the compass on the desired location and it programs itself to lead you there. We also made sure that you always know where home is. Once you set home on the comapss, it remembers it until the end if your trip. Just in case you're feeling lost, you can always head back to your safe space.
5. Align


Align yourself in the direction of the destiantion and let the compass direct you along with feedback about the remaining distance. This is the only core interaction with technology we want you to have during the trip.

Traveling should make you look around and not into a device.
6. Wander


How you get there is completely on you. Go wander!
Business as usual
Since we focus on enabling you to experience wandering in as many unknown places as possible, our business model is also built around that. The starter pack comes with a compass and the first Go Wander map. Since the compass will work with any map, for the next destination you will only need to pay for a new personalised map.

We believe these maps can become your city diaries. You could have a neat collection after a few travels with us.